Drayton Tanks provides one of the most comprehensive Bespoke Custom water Tanks in the UK,
We produce Tanks to customers specific dimensions, thus providing special bespoke versions of tanks
Also special variations of standard tanks to enable tanks to fit through restricted access, we can manufacture a tank to sort just about all requirements,
Bespoke and custom water tanks available upto the following dimension restraints:
upto 2500mm Internal Maximum height
upto 3000mm Internal Maximum width,
with any length upto 14000mm Internal Length.
We can provide tanks split horizontally (the height of the tank) into two sections or three sections, resulting in a tank that can now fit through a doorway or other restricted access.
EG. Customer requires a 3000 litre nominal capacity GRP Insulated bespoke custom water tank to fit through a doorway 800mm wide.
Therefore we can produce…
3000 Litre Nominal Capacity GRP Two Piece Water Tank, with 25mm Thick insulated walls and lid with Access Hatch as follows:
Internal Dimension: 2600mm x 1000mm x 1155mm
External Dimension: 2770mm x 1170mm x 1255mm
To fit through the 800mm wide doorway, The custom bespoke water tank is made as a two piece tank which splits the height down to 577mm on each section, resulting in the the tank can now pass through the doorway.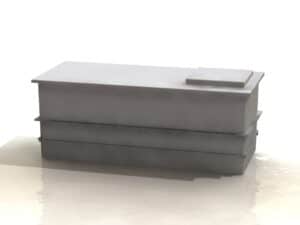 Please contact us for help sizing and choosing the perfect storage tanks to provide the storage requirement in the space provided.
To find our standard sized tank please click here
Tel : 0871 288 4213
Tank Enquiry Form
Please complete this form if you have a Tank enquiry to more specific requirements, and we will get back to you with a quote or contact you for further details.