GRP Sectional Water Tanks
Sectional Water Storage Tanks are made from Panels Bolted together on site to create a Larger Water Tank.
Also known as panel tanks,   
The Panels are delivered to site with all the necessary Fasteners and Sealer required to assemble the tank, along with any fitting purchased with the tank,
The Tank requires a Flat Fully Supported Base that is within the tolerance of 1mm in any 1 Metre.
The Tanks are manufactured to BSEN 13280 Standards.
Most Tank Panels are available in 1m x 1m Sizes and 1m x 0.5m Panel Sizes
We manufacture our panels ourselves and can make the panels to most sizes, therefore reducing the amount of joints in the tank, which can reduce production and assembly times and also makes the sectional tank stronger.
We can make panels upto 2500mm High, and as a result we can make most sectional water storage tanks with only one panel on the height and as such this means we dont need internal supports or stayrods inside the tank.
With our Sectional Water Storage Tanks being made only one panel high the resulting Tank does not have any internal stayrods which in turn reduces additional work and surfaces for bacteria to grown on.
Our Tanks are Approved and made to BS EN 13280:2001 Standards
Sectional Water Tanks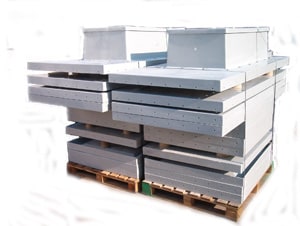 Sectional Tanks can be manufactured to any size upto 2.5m High
Please Contact our Sales Team for Information and advice on our Sectional Tanks
We also can provide the sectional Tanks along with Site Assembly, and now we also provide a Joint Lined Site Assembly that seals all the internal joints.